Netflix's catastrophic earnings move, down 30% at the open, is not totally unexpected if you look at the history of the stock.
Last earnings announcement saw a 21.8% decline. The options market was expecting a 7.4% move in either direction, a larger implied move than in any quarterly earnings since July '20.
This earnings, options investors were expecting an even larger 10.3% move in the stock after earnings announcement. They certainly got that and more.
Coming up to this earnings announcement, there were also downgrades to the stock. NFLX had heretofore not seen downgrades in its earnings outlook. They received four downgrades and two upgrades.
All this information is presented graphically in the new ORATS Options Dashboard fundamental tab.
The ORATS earn move report showed anomalies too.
The expected move was 2.6% of the stock price greater than the history average of the last 12 quarters of move.
The options market expected NFLX implied volatility to fall back down to below the historical 90 day volatility average after earnings is announced, falling from 59.2% yesterday to 45.4% expected levels after earnings. Historical volatility in not earnings days is 48.3%.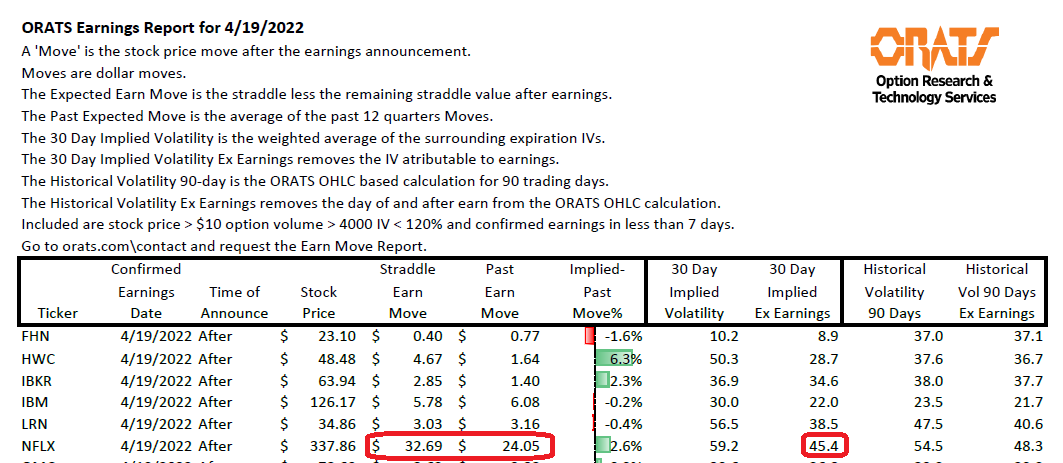 Taken together, NFLX showed signs of an earnings blowup going into last afternoon's announcement.